One of my all-time favorite cakes is a Fruit Cocktail Cake. It's an old family recipe that my mom still loves to make today. When I found out that today was National Fruit Cocktail Day, I knew we had to do a video to showcase this delicious cake the lady who makes it.
Fruit Cocktail Cake
Mix Together:
1 cup sugar
1 cup flour
1 cup fruit cocktail
1 tsp baking soda
1 egg
1/4 tsp salt
Bake in 9×9 square pan at 350 degrees for 35-40 minutes.
Topping:
1/4 cup sweetened condensed milk
1/2 cup sugar
1 stick of margarine
1 tsp vanilla
Mix together and heat on stovetop until it comes to a boil. Pour over warm cake. Let cool and serve.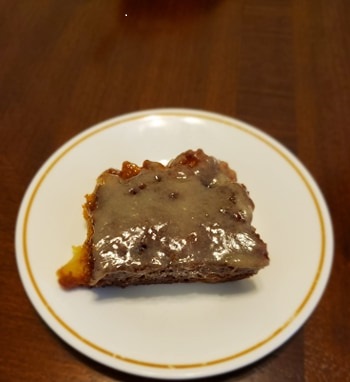 Be sure to check out the video to see just how easy it is to make. My mom makes it in an old square pan but it could easily be prettied up by making it in a glass pan.