Partner with Sunshine and RollerCoasters
My name is Dena and I'm a single foster/adoptive mom to three wonderful children.  I love showcasing brands and products that I believe in.  These are just a few of the ways that I have had success in creating partnerships.  Let us know if your company uses Hashtags so we can be sure to use those in social shares too!  All items will be promoted on our social media venues.
Our Review Team
"Dena" – Single 50ish mom – Loves cooking and home related items, Florida Life, theme parks, technology products and gadgets, and plus size clothes and accessories.  
"Morgan" – 10 years old going on 15 – Loves books, tech items, and anything girly.  Avid gymnast and dancer with aspirations to be a YouTube star some day. 
"Mason" – 9 years old – Loves trucks, electronics and tech items.   
"Mia" 6 years old – Loves dolls, blankets, books, and anything soft and cuddly.   
"Sebastian" 13 year old cat – Loves mice, hair bows, and anything that moves.    
"Seymour" 6 year old Bengal cat – Loves mice, hair ties, interactive cat toys, and basically anything that moves.
"Nanny and Pawpaw" – Huge supporters of our little family.  We couldn't do this without them.  Nanny loves to cook and create recipes and Pawpaw is an avid fisherman who loves fishing on the majestic St. Johns River near DeLand, FL.  
Reviewing items "For Her", "For Him", "For Kids", "For Baby", "For Cats", and "For Home".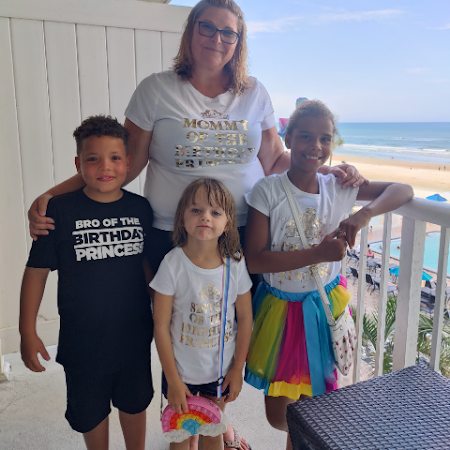 My Review Policies

Books
I review children's books, romance, thrillers, mysteries and most contemporary fiction.   I ask for a minimum of 21-30 days to read the book and write and post my reviews.
Sorry, I will not accept E-books.  If you have a deadline, please let me know and I will do my best to work with you.  I post my reviews to:   My personal blog and/or My FB Fan Page, Twitter, and Instagram.   
Event and Venue Reviews
We love to do fun things, so if you represent a local business or attraction that is family friendly, please let us know.  We would love to help promote it!
Product Reviews
Reviews are free of charge in exchange for products to review.
All products (including books) submitted for review must have a retail value of at least $60(this can be a combined value) or must be accompanied by a stipend that increases the package value to $60 or more.   This is only fair, because I do spend a lot of time testing the products and writing the review.
Review product and Giveaway prizes must be shipped by sponsor and will not be returned.
Reviews are placed on the blog between 1-3 weeks after receiving the product. If you need a different time frame, please let me know and I will do my best to work with you to meet your deadline.
A link to social media outlets of the company are placed on the blog post with the review, unless otherwise discussed.
Reviews are 100% honest and open.
All products are tested thoroughly before the review will be posted.
Giveaways are optional, but are strongly encouraged.
Giveaways
All links will be nofollow. This is in compliance with Google's Webmaster Terms of Service in regards to paid links. I do this to protect my blog as well as your website. Please read Google's page on paid links for more information.
Giveaway Policies:  I would be more than happy to run a giveaway of your product. Giveaways increase the attention your product gets so we highly encourage them. There are a few guidelines that must be followed. First of all, you must send me a review product. I will not do giveaways only. Secondly, your product must meet all the standards in the review policies section (see above).
In addition, my giveaways meet FTC guidelines. I will not require entrants to like your Facebook page or visit your website. Finally, you must agree to ship the product directly to the winner or send it to me with a stipend for shipping costs.
Current Statistics
Updated as of 10/20/22
U.M.V Monthly Page Views at www.sunshineandrollercoasters.com  81,404
Ind.  Monthly Users visiting www.sunshineandrollercoasters.com   63,523
Facebook Fan Page  15,003
My Twitter  13,500
Pinterest  4,571
Instagram 5,920
If you're looking to be featured on SunshineandRollerCoasters.com, we are here to help.  I would be happy to write a sponsored post for you and can include any keywords, pictures, etc. that you would like.  I will also include a link where I can direct my readers to your website, blog, or social media networks.  If you would like to be featured on SunshineandRollerCoasters.com, please feel free to contact me. 
I am also available for hosting Twitter Parties and anything else that you might need.  If you are interested in having me host a Twitter Party for your brand, feel free to visit this page on my blog for more details. 
I can be contacted at [email protected] or on my blog Facebook Page.