Do you feel like your living room is in need of a refresh? Are the colors starting to feel a little dated, and the furniture starting to feel a bit too comfortable? It might be time for a change, then. A new coat of paint, some new furniture, and some creative decorating ideas can go a long way in transforming your living room from drab to fab. This blog post will explore some of the best ways to give your living room a facelift on a budget. So get ready to be inspired!
1) Create a Statement Wall
Creating a statement wall is a great way to give your living room an instant facelift. By using bold colors, unique textures and patterns, or even statement artwork, you can instantly transform your living room's aesthetic. You can start by painting the wall with a bright hue like red, yellow or green to create a focal point that will draw attention when people enter the room. Then you can choose complementary pieces such as art prints, wall hangings and other decorations to complete the look.
You could also consider adding texture to the walls with wallpaper or simply applying one color of paint in multiple layers for an added depth effect. If you're feeling particularly adventurous, why not explore 3D wall art or get creative with DIY projects like hanging fabric panels? With a little creativity and some effort, creating a stunning statement wall in your living room doesn't have to be difficult or expensive. So go ahead and start experimenting today – it might just be the perfect way to get your living room looking its best!
2) Change Up The Furniture
Another great way to give your living room a much-needed makeover is to mix up the furniture. Oftentimes, it's easy to get stuck in a rut of buying the same type of furniture year after year. If this sounds like you, why not try something new and switch out some pieces for statement pieces that will help transform your living room into something entirely different? You could find yourself some vintage furniture or perhaps even go all-out with modern and contemporary designs – the choices are endless!
Also, don't forget to consider the cushions, throws and rugs – they can make a huge difference in the overall look of your living room. Try bold colors and patterns to add depth and texture, or go for a more muted color palette if you want a calmer atmosphere. Either way, changing up the furniture is an easy and affordable way to give your living room a whole new look.
3) Add Some Greenery
Adding some greenery to your living room is a great way to transform it and give it a fresh new look. Not only does it bring a sense of natural beauty and serenity to the space, but it can also be used as an accent piece that adds color, texture, and even scent to the room.
One of the best things about adding greenery is that there are so many options to choose from – from houseplants like succulents and ferns to decorative branches or small shrubs. 
You can also opt for potted plants in a variety of colors and shapes that will really stand out in your living room. If you're looking for something more unique, consider adding wall-mounted planters or hanging baskets with trailing vines – they'll add an interesting visual element while still keeping the overall atmosphere light and airy.
4) Replace the Windows
Replacing the windows in your living room is an easy and effective way to upgrade the look of the space. Custom windows come in a variety of styles, sizes, and materials – so you can be sure to find a type that fits both your budget and interior design aesthetic. Plus, they are often much more energy-efficient than standard windows, meaning they will help keep your living room cooler in the summer months and warmer in the winter months, helping you save on heating costs.
When it comes to finding the perfect window for your living room, there are many options available. For example, you could choose from traditional wooden frames or opt for something more modern such as aluminum or vinyl frames with energy-efficient glass coatings. Custom windows also come in various shapes and sizes, so you can pick one that best suits the size of your space. And if you're feeling adventurous, consider adding stained glass accents for a truly unique look.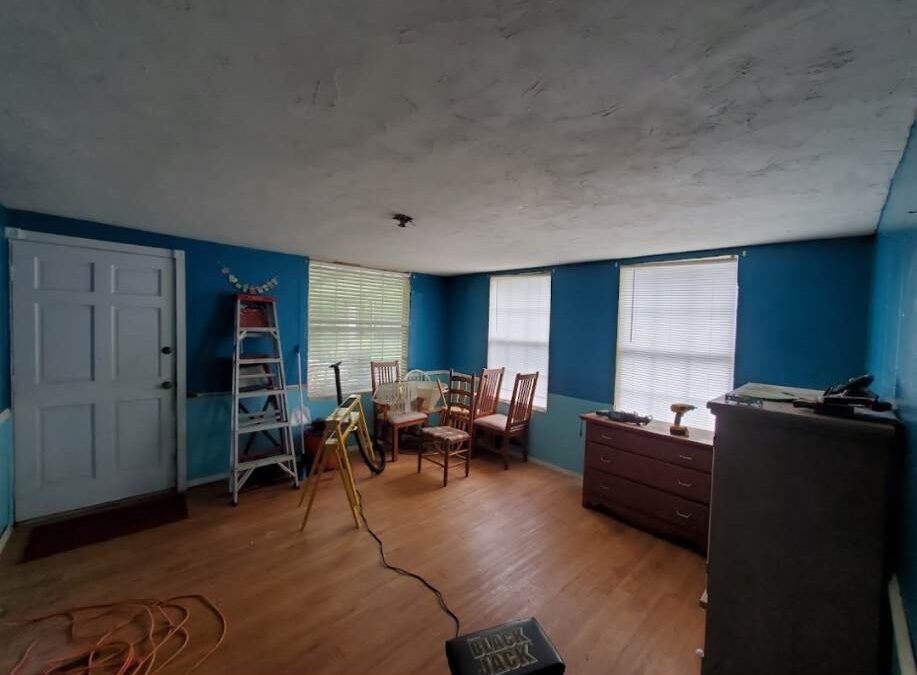 In conclusion, there are plenty of ways to give your living room a much-needed makeover without breaking the bank. From changing up the furniture and adding some greenery to replacing custom windows or creating statement walls – there's something for everyone! So go ahead and start experimenting today, and you might just be surprised by how easy it is to transform your living room into something special.