Each year, thousands of visitors travel to DeLand, Florida for the Stetson Mansion Christmas Spectacular. The Stetson Mansion is a beautiful mansion that was built in 1886 for famed hatmaker John B. Stetson, the founder of the Stetson Hat Company.  In 2005, it was purchased by JT Thompson and Michael Solari, who completed a full renovation and opened it to the public for the first time.
Billed as "Florida's First Luxury Estate", the mansion was named "Florida's Most Popular Tourist Attraction" according to TripAdvisor in 2015 and named as one of TripAdvisor's "Top 10 Things To Do In Florida" in 2016The Christmas Spectacular is a holiday home tour that has quickly become a Central Florida Holiday tradition. The spectacular runs from November 15th through January 15th. Multiple tour times are available each day and reservations must be made at StetsonMansion.com. Tickets for Adults are $25+tax($26.63)Children (Ages 6-22 $15.98). The Stetson Mansion Christma tour is NOT recommended for young children and lasts approximately 90 minutes.

T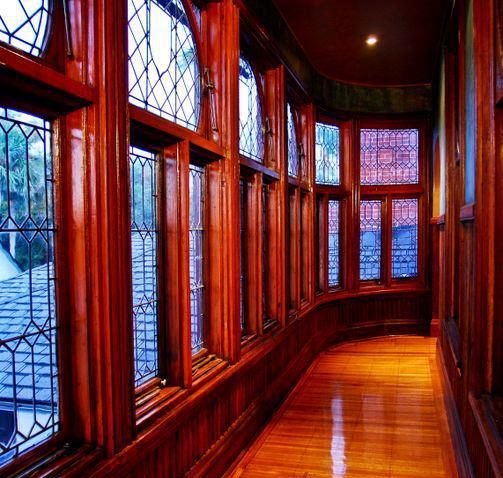 he mansion boasts 16 patterns of the most rare and intricate parquet wood floors, 10,000 panes of original leaded glass windows, 3 main bedrooms, 7 bathrooms, and a beautiful Zen like cottage that was formerly the schoolhouse for the Stetson children.  During the Christmas Spectacular, each room has a different theme,  A few of this years room themes will be: "A Victorian Christmas and The 200 Anniversary of the Bicycle," "Arrival of the Christ Child,"  "A Tribute to Elves," "Snowbabies," "Friends of Stetson," "A Salute to the Five Branches of Service," "A Stetson Prairie Christmas" and "Pretty as a Peacock." I have several favorite things about the mansion, but probably my most favorite is the original Edison electric box. That's right, Thomas Edison wired the house with electricity and the original electric box still remains.
So, take a look at their current advertisement and make your reservation today for the Stetson Mansion Christmas Spectacular. While you are in DeLand, be sure to check out the manatees at Blue Spring State Park or visit Downtown DeLand – America's Best Mainstreet. Make sure you plan enough time to stay for awhile and see everything that there is to see.
Stetson Mansion Christmas Spectacular Tour Details:
Location:  DeLand, Florida
Dates:  Nov 15 – Jan 15
Times:  10:30, 1:30, 5:00 DAILY, EXCLUDING SUNDAY MORNINGS.   reservations required
Tour Duration:  75-90 minutes
Pricing:  $25+tax ($26.63), CASH ONLY  –  FREE PARKING
Updated as of 6/15/2023:  The Stetson Mansion Christmas Spectacular is the only time of year to see this magnificent piece of history, so make reservations now for an experience that you will not soon forget.