This is a sponsored conversation written by me on behalf of Pagoda®.The opinions, text, and photos are all mine.
One of my favorite things about the holidays is getting together with family and friends. And, what makes a get together with family and friends even more awesome? A variety of fabulous foods for guests to sample. But, let's face it, holiday parties can be stressful. Menu planning, grocery shopping, and preparation add up to more time than I have, so a couple of years ago I found a great solution. I love to do a variety of appetizers, salads, and desserts so that people can kind of graze rather than sit down for a large meal. My house is somewhat small with limited seating, so this tends to work well for us. For holiday parties, I will typically pair Pagoda® Snacks with a variety of homemade items and prepared foods. Usually this consists of a cheese plate, hummus, shrimp cocktail, fruit and vegetable platters, cocktail wieners, and a variety of desserts. Make it even easier on yourself by inviting guests to bring a special dish or drink and make your holiday party even more memorable and enjoyable. Another benefit of doing appetizers versus a large holiday meal: the time for meal prep on the day of your event is diminished considerably. Cheese plates, salads, and fruit and veggie platters can be prepared in advance, cocktail wieners can be cooked in a crockpot, and your Pagoda snacks can be prepared in less than 20 minutes.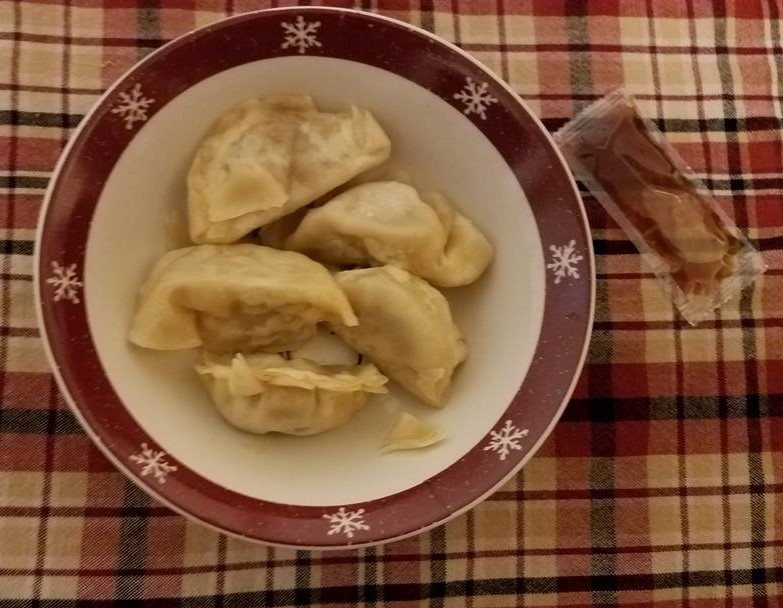 My guests seem to really enjoy grazing and discovering new flavors like those offered by Pagoda snacks. A couple of years ago, I tried potstickers for the first time at a media event and absolutely fell in love with them. They are so delicious and surprisingly filling. I served them to my kids recently along with some of the Pagoda Pork & Shrimp Egg Rolls, and a chicken &shrimp stir fry. They loved them and kept saying, "mmmm," "mmmm".
Both the eggs rolls and the potstickers are so quick and easy to prepare. Pagoda Snacks are made with fresh-cut veggies(carrots, cabbage, onions, and celery), from-scratch wrappers, and 100% white meat chicken. Plus, Pagoda Snacks are made with no certified artificial dyes, no MSG, no trans fats, no PHOs, no high fructose corn syrup, and no preservatives. So, basically all of the deliciousness, without the bad stuff. The potstickers box had two pouches inside that contained 5 potstickers each while the egg rolls come with4 egg rolls. The pork potstickers come with a lime ponzu sauce while the egg rolls come with Sweet Chili Sauce that offers a bold flavor, making the snacks even more delicious. Both the eggs rolls and the potstickers are so quick and easy to prepare. The potstickers can be prepared on the stove top or in the microwave, while the egg rolls can be prepared in the oven, the microwave, or deep fried for even more crunchiness. So, on the day of your event, you can cook the potstickers and egg rolls at the same time. Simply cookthe potstickers on the stove top, while you are preparing the egg rolls on the top rack of your oven. Quick and easy! You can find delicious Pagoda Snacks in the freezer aisle at your neighborhood Publix where you can choose from four varieties of Pagoda Snacks.
• Pagoda® White Meat Chicken Egg Rolls 4 count (12.27oz)
• Pagoda® Pork Potstickers (9.49oz)
• Pagoda® Pork & Shrimp Egg Rolls 4 count (12.27oz)
• Pagoda® Vegetable Egg Rolls 4 count (12.27oz)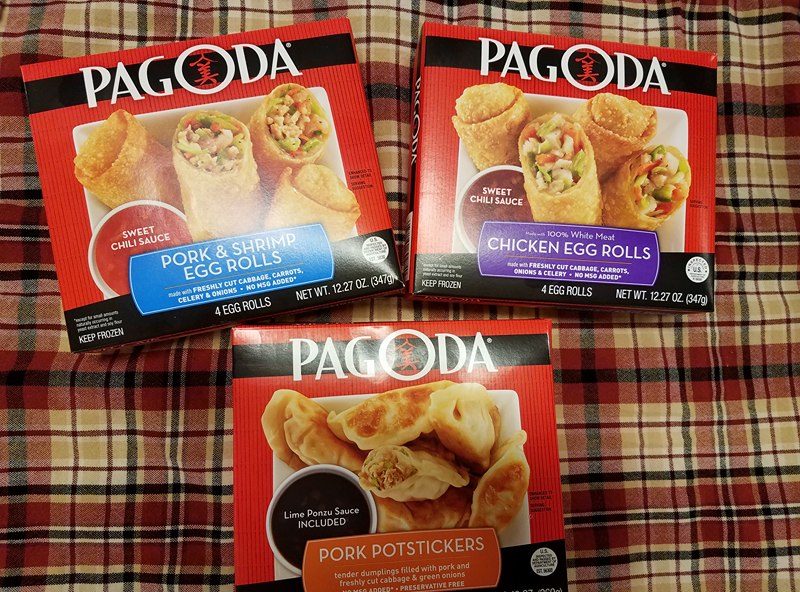 Do you want to save some money this holiday? Save $1.00 with this digital coupon for Pagoda® Products at Publix (https://www.publix.com/savings/coupons/digital-coupons)
As I was preparing the potstickers this weekend, I kept thinking to myself that they would be really good after the kids go to sleep and I'm wanting to nosh while watching my favorite Christmas movies. So, while they are great for holiday events they are also great anytime.